NEW FROM BEKING'S POULTRY FARM
CERTIFIED ORGANIC EGGS FROM FREE RANGE PASTURED HENS.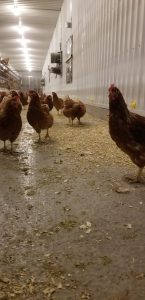 This small flock of hens live in a spacious cage-free environment in an aviary system and have access to acres of pasture when weather permits. This allows them to forage through the field and explore. Their diet consists of a locally sources certified organic non-gmo feed in addition to what they forage outside.
Our NEW Organic Eggs can be found alongside Beking's Roam Free eggs at select stores around Eastern Ontario and they have the same fresh taste and "Direct from Farm to You" promise.
BEYOND ORGANIC
In addition to our organic certification we have incorporated new innovation in our barn to work towards producing a carbon neutral egg that has no impact on the environment. For more information and updates on our progress check out our green initiatives page.
To purchase our certified organic pastured eggs, look for these cartons in your local grocery store or contact us for locations near you.