NEW FROM BEKING'S POULTRY FARM – CERTIFIED ORGANIC EGGS FROM FREE RANGE PASTURED HENS.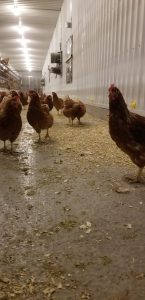 This small flock of hens live in a spacious cage-free environment in an aviary system and have access to acres of pasture when weather permits. This allows them to forage through the field and their diet is supplemented with a local, certified organic non-gmo feed.
Our NEW Organic Eggs can be found alongside Beking's Roam Free eggs at select stores around Eastern Ontario this December and they will have the same fresh taste and "Direct from Farm to You" promise.